Power Washing Ocean City MD
Ocean City's
Top Rated
Power Washing
Get The Best Ocean City Power Washing Services in MD
At Kendall Roof and Exterior Cleaning, we offer top-notch pressure washing services to keep your home or business looking its best. Using high pressure water, our team of professionals can effectively remove dirt, grime, and stains from a variety of surfaces, including siding, decks, sidewalks, and more.
Pressure washing is a quick and efficient way to restore the original beauty of your home or business. It can also help protect your investment by removing harmful substances that can cause deterioration. Regular pressure washing can extend the life of your property's materials and save you money in the long run.
In addition to its practical benefits, pressure washing can also improve the safety of your home or business. For example, pressure washing your deck or patio can help prevent slips and falls caused by slippery, greasy surfaces. And if you operate a commercial property, pressure washing your sidewalks and entryways can help prevent accidents caused by debris or slippery substances.
Overall, pressure washing is an essential part of maintaining the appearance, value, and safety of your home or business. Trust the experts at Kendall Roof and Exterior Cleaning to provide top-quality pressure washing services and keep your property looking its best.
Our Ocean City Power Washing Services
Click A Box To Learn More About Each Service
Benefits Of Our Ocean City Power Washing Services
At Kendall Roof and Exterior Cleaning, we pride ourselves on providing the highest quality pressure washing services in the area. With over a decade of experience and an impressive 500+ 5-star reviews, it's no wonder why we are the most trusted provider on the shore.
Our team of professionals is dedicated to delivering the best results possible and ensuring complete customer satisfaction. We use only the best equipment and techniques to effectively remove dirt, grime, and stains from a variety of surfaces, including siding, decks, sidewalks, and more.
In addition to our excellent service, we also offer competitive pricing and flexible scheduling to meet your needs. We understand that your time is valuable, which is why we work efficiently and strive to minimize disruptions to your daily routine.
Don't trust just any company with the important task of maintaining the exterior of your home or business. Choose the proven and reliable experts at Kendall Roof and Exterior Cleaning for all of your pressure washing needs. Contact us today for a free quote and see the difference for yourself. You won't be disappointed!"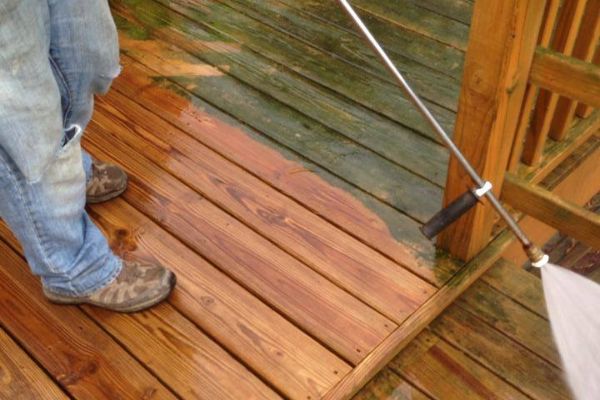 Restore Your Property Instantly!
We're Comitted To Your Happiness
Super Awesome benefits for you to enjoy...
Real Power Washing Reviews From Happy Customers
WHAT Your
Neighbors
ARE SAYING
Power Washing Ocean City MD
Very pleased with the quality and same day service. First time getting our house power-washed. Called two companies and Kendall returned call right away. Their price quote was also competitive. House looked really nice and cleaned. Will recommend this company to anyone looking for service.

Virginia Gilmore
Power Washing In Ocean City MD
Great company...highly recommend for anybody needing their home powerwashed in the Ocean Pines area! I am a repeat customer...used them last year to clean a rental home, and then this year to clean our own home. Will call on them again next time!

Robert Haddix
Power Washing Ocean City
Kendall roof and exterior cleaning just power washed my house & driveway. They did a great job, showed up on time and were very professional. I have used them before and their soft wash lasts for several few years. I recommend Kendall Power Washing to all my real estate clients and friends.

Mickey Lobb
Frequently Asked Ocean City Power Washing Services
We can power wash a whole host of different surfaces, including, but not limited to, guttering, driveways, asphalt shingles, tiled roofs, paving, fencing, decking, metal sheeting, brickwork, and so much more. If you have a surface at your property that needs power washing but we haven't listed it here, just give us a call and our friendly team will be able to let you know if we can handle the job.
The frequency of which you will need power washing will depend on the type of surface in question. For example, typically, a home's roof will need to be power washed once a year, a home's exterior also has a general recommendation of once a year, while gutters should ideally be power washed twice a year. These are just a few examples, and obviously, there are plenty of other types of surfaces with their own recommendations. Get in touch with our Salisbury pressure washing team, so we can answer specific queries for you.
Our power washing prices are based on the type of requirements you have and the size of work involved, obviously, a larger surface area will cost more than a smaller area. Because our prices are specific in order to give you the best price possible, we offer free personalized quotes to anyone interested. Our quotes are clear and comprehensive, and we never have any hidden charges or extra fees.
Ready To Restore Your Home?